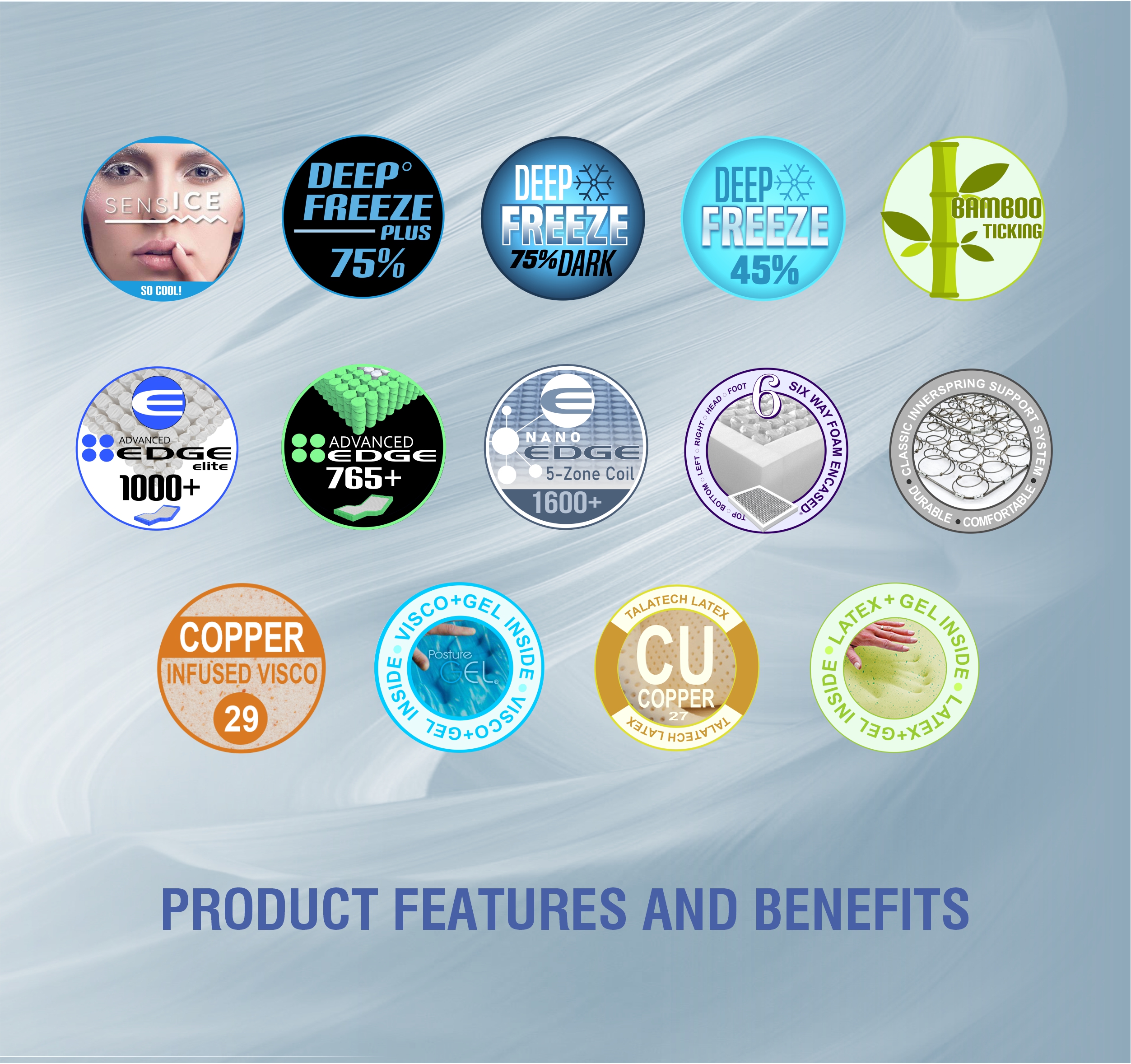 Mattresses manufactured by Sleeptronic include a variety of components that deliver real, tangible benefits for consumers. These features are specifically selected for each product we manufacture to meet the comfort and support needs of differing consumers. At Sleeptronic we strongly reject the "One Mattress for ALL" approach that many online focused mattress marketers have adopted.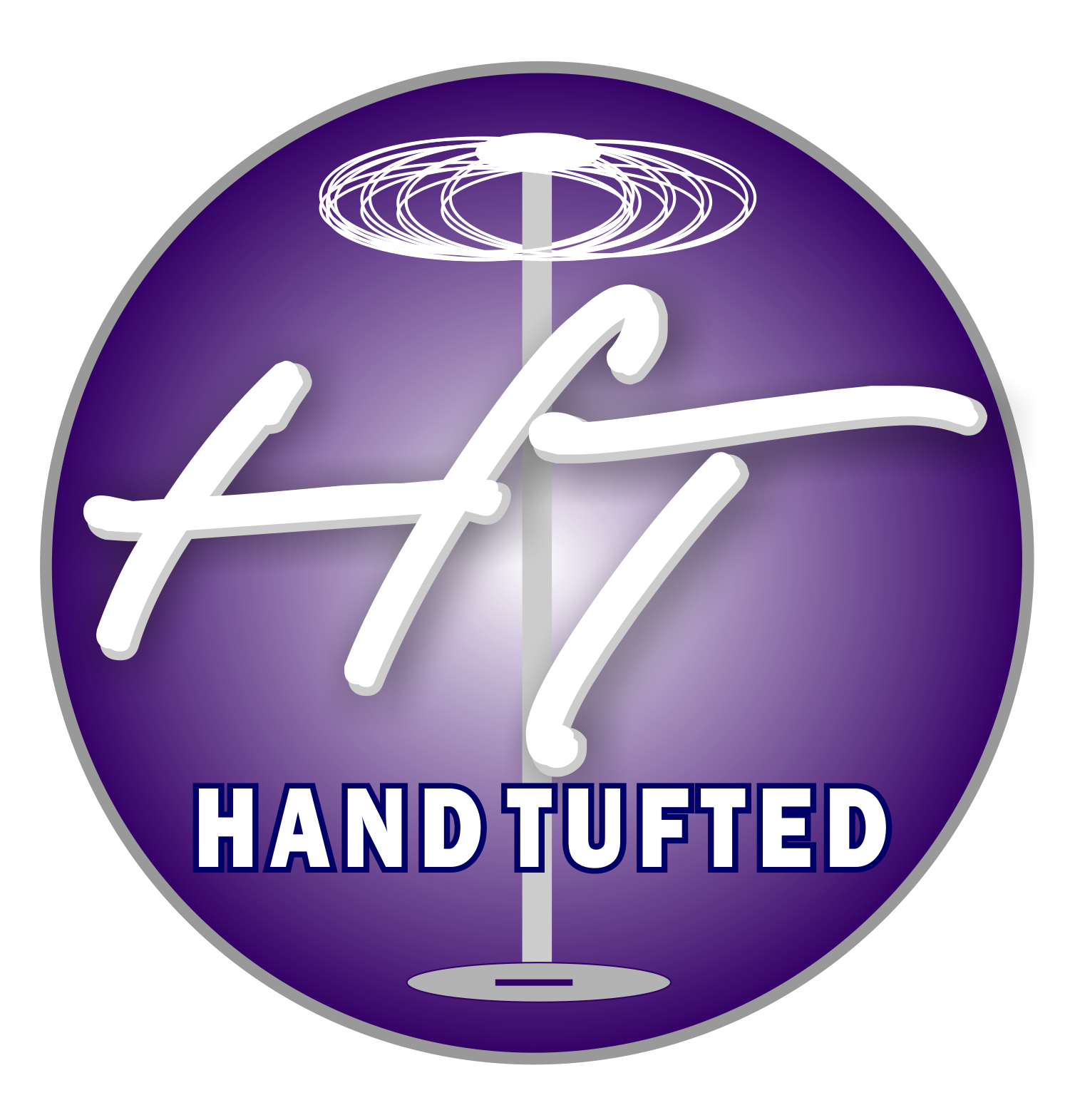 HAND TUFTING
Old world craftsmanship is alive and well at Sleeptronic

®

. Our skilled mattress craftspeople are experts at Hand Tufting a curated selection of mattresses we manufacture. Decorative rosettes anchor a tufting cable that runs
completely through the mattress, locking all materials in place and preventing migration of the comfort and support layers. A sign of a truly handcrafted mattresses, hand-tufted mattresses are compressed before tufting, eliminating false loft, which can lead to body impressions in some over sized mattresses. With all cushioning materials locked firmly in place, the sleeping surface remains uniform for the life of the mattresses, guarding against the emergence of a hump in the middle of the mattresses which can develop over time, particularly in king size. Since the comfort and cushioning materials can't migrate, body impressions are no longer a concern.
Select models from the Dream Dynamics
®
Collection and select Edge Elite Models feature hand tufting!

The following video shows the process of hand tufting a mattress and was recorded in the Sleeptronic® factory in Ft. Worth, Texas.




INNERSPRINGS - THE FOUNDATION OF SUPPORT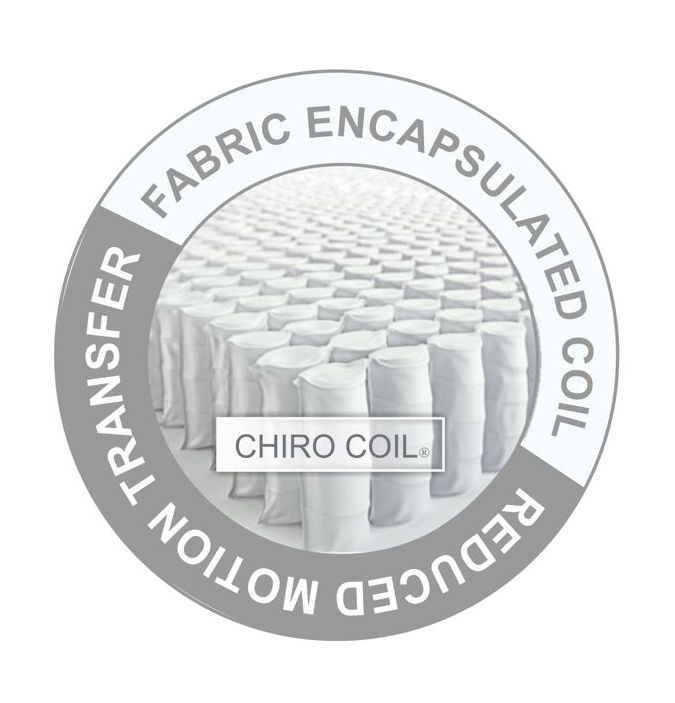 Chiro Coils® - Do you wake up frequently in the night when your partner turns over, or moves in and out of the bed? The Dream Dynamics
®
collection is comprised exclusively of mattresses that feature fabric-encapsulated coils. Chiro Coil

®

fabric encapsulated coils also are integral to the support systems found in select Chiro Beauty

®

two sided models. Mattresses featuring individually pocketed innerpsrings transfer motion down, into the mattress when a partner moves or enters or exists the bed, especially in comparison with exposed "open" wire coil systems found in less advanced models. This focus on reducing motion transfer helps assure a great night's sleep by minimizing or eliminating partner disturbance. Because the coils respond in an individual manner to pressure producing zones in the shoulders and hips, overall pressure pinch points are reduced. Chiro Coil

®

spring systems are the standard by which other products are measured in both traditional and Hybrid construction mattresses.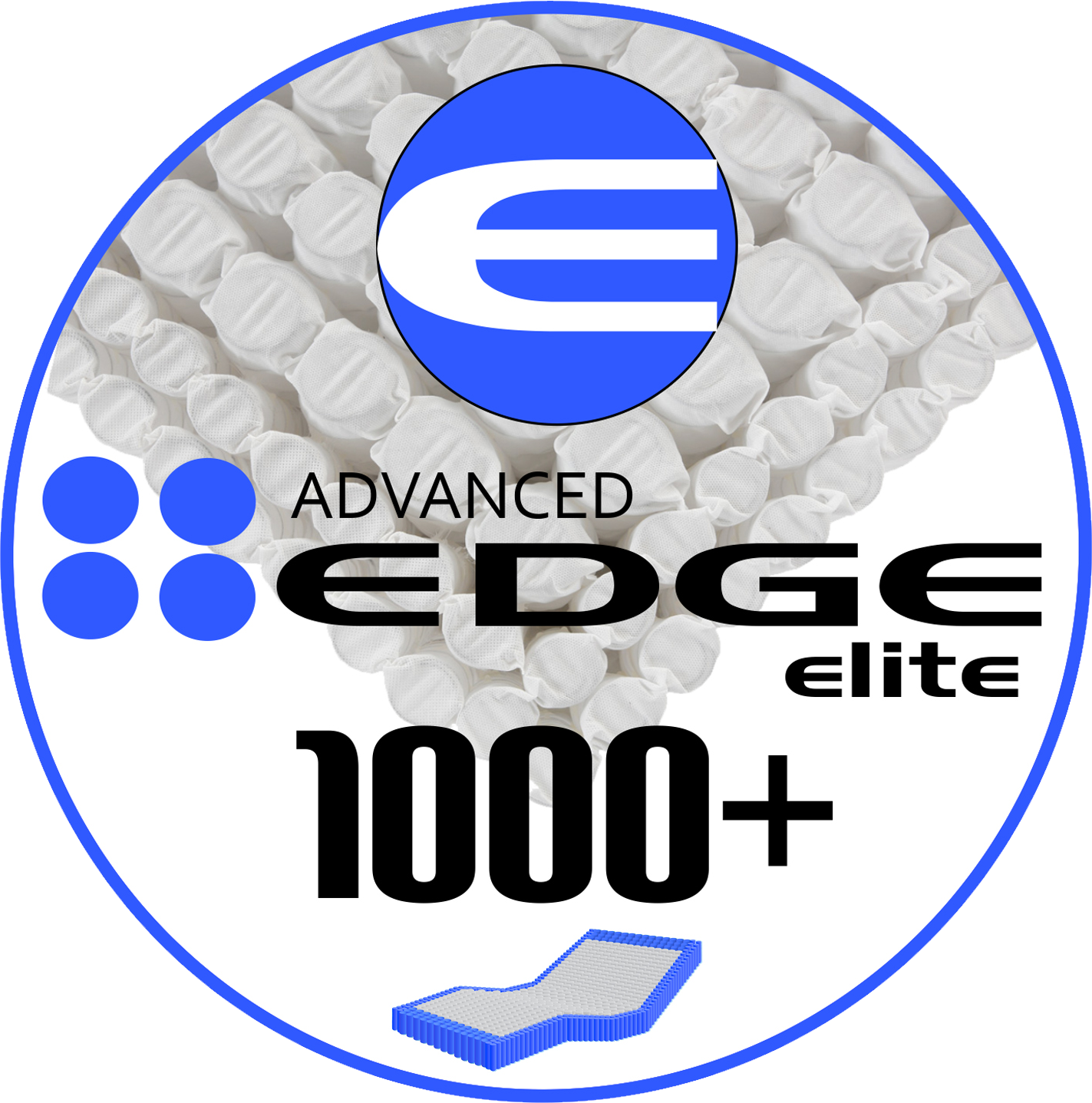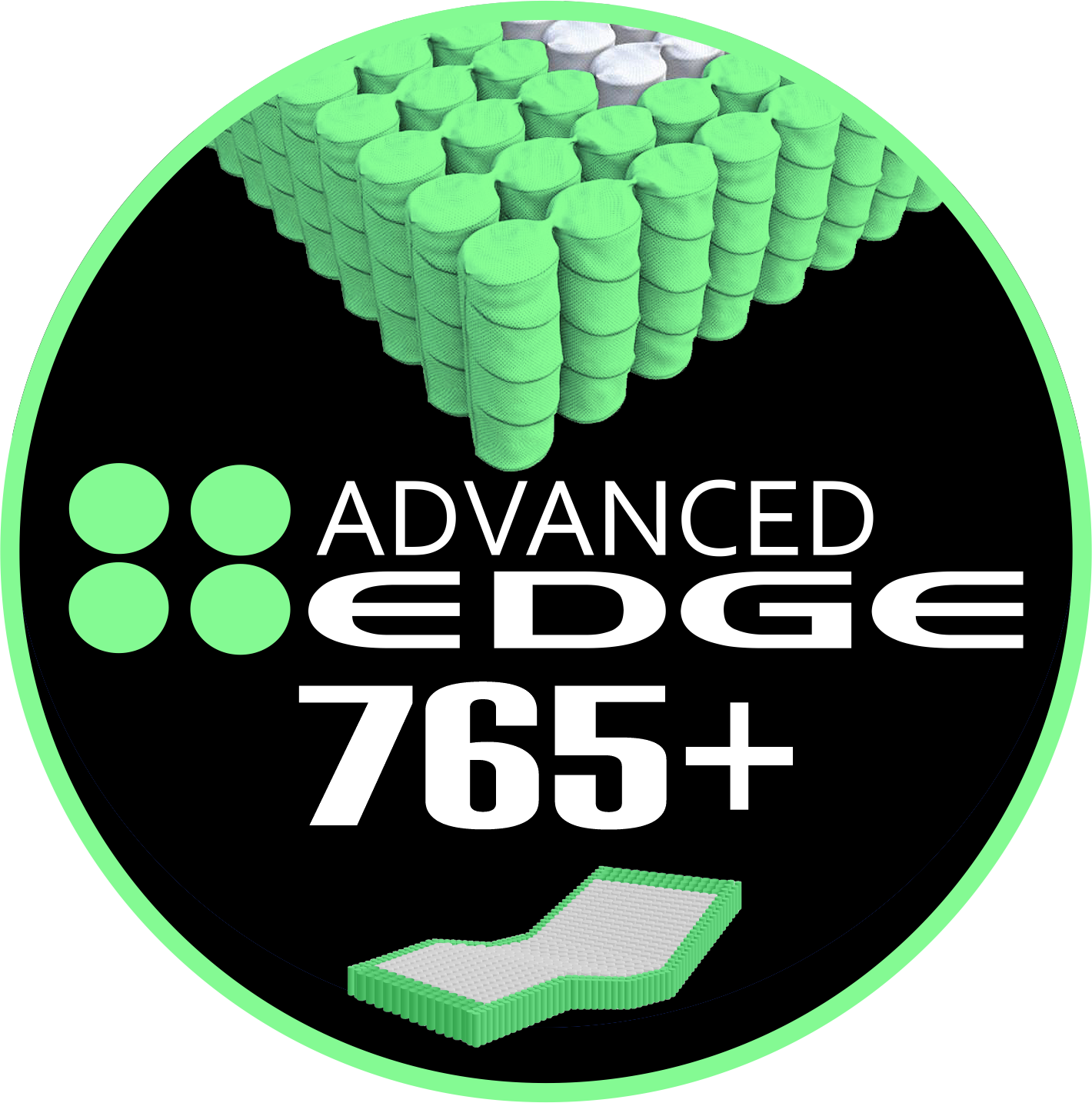 Advanced Edge and Advanced Edge Elite
- Sleeptronic
®
is proud to feature many advanced coil designs in our mattresses. One of the most advanced is the Advanced Edge Fabric Wrapped Coil, which appears in the
SleepFlex Latex
®
and
Edge Collections
. Mattresses featuring Advanced Edge Coils are specifically designed to conform and flex when used on an adjustable foundation. Extra coils concentrated around the perimeter of the mattress provide a firmer and more supportive edge which prevents the all too common "falling out of bed feeling" that many budget mattresses produce.
Advanced Edge Steel Perimeter bends an
average of 24% more easily than foam encasement,
which means less wear and tear on moving parts
and a more "friendly" performance on
adjustable bedbases.
Advanced Edge Steel Perimeter outperforms
foam encasement, offering 26% more durable comfort life and
better support while reducing the feeling of roll-off

.
Advanced Edge Elite coils include a posturized center third, providing extra support right where it's needed most!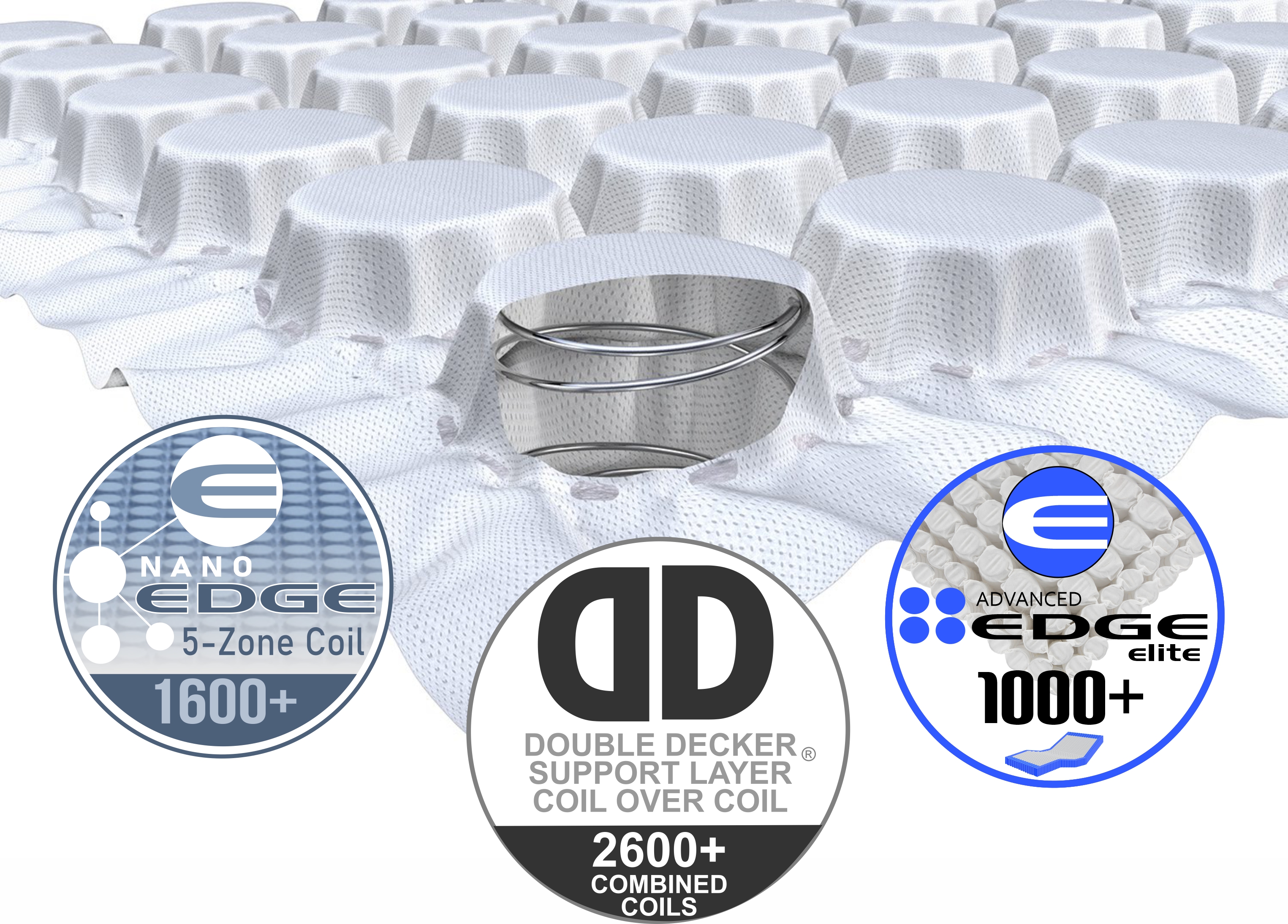 Advanced Edge Nano Coils - An exclusive feature of the Edge Double Decker

®

series of mattresses, this coil system replaces traditional comfort and support layers with the strength and support of a small coil unit. Featuring 5 zones of comfort and a reinforced edge, the Advanced Edge Nano Coil provides additional conforming support that enhances pressure relief while extending the life of the mattress. Utilized with the Advanced Edge Elite as a base support system as a coil-over-coil construction, more than 2,600 total coils are featured in all Double Decker

®

models!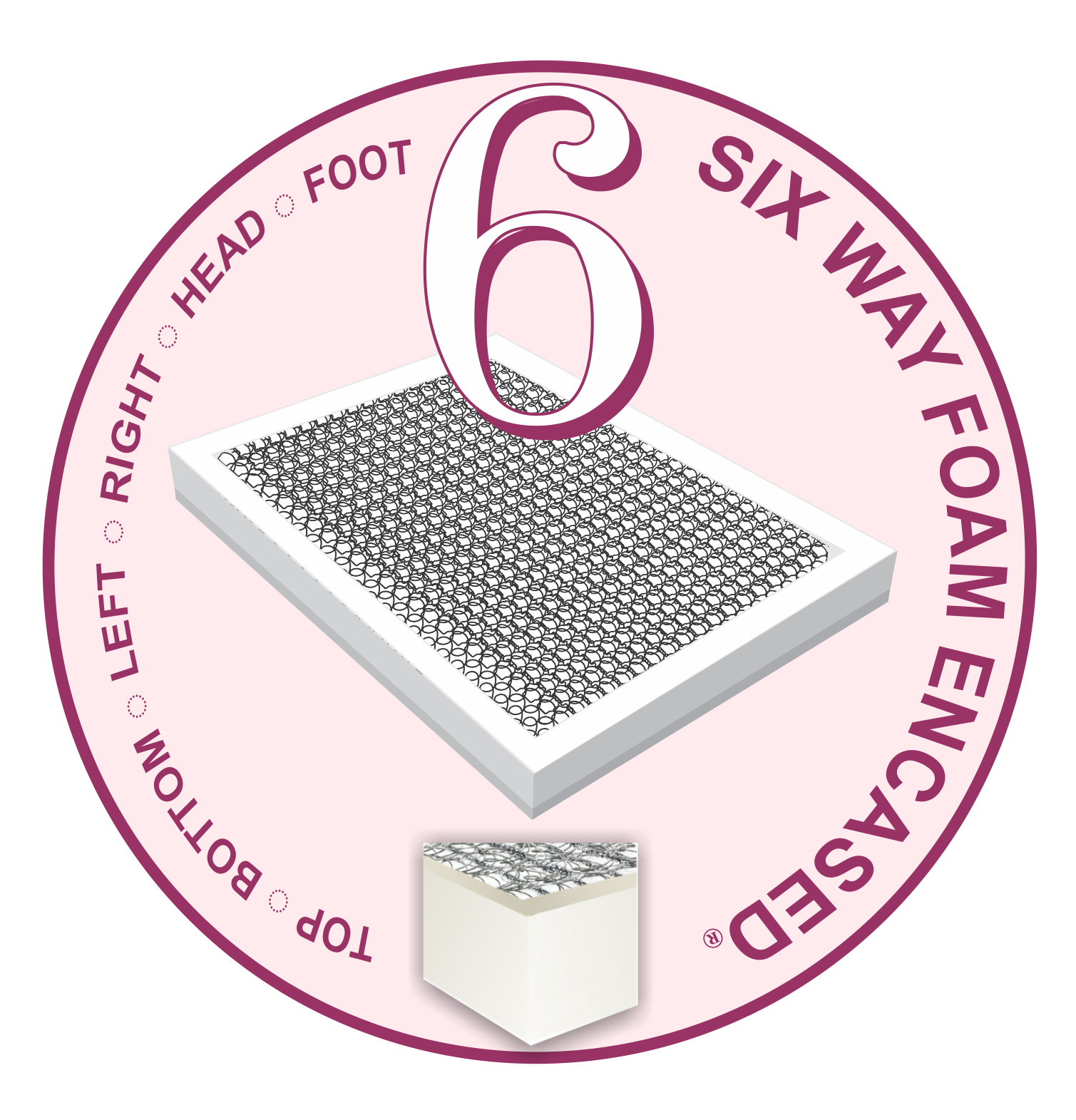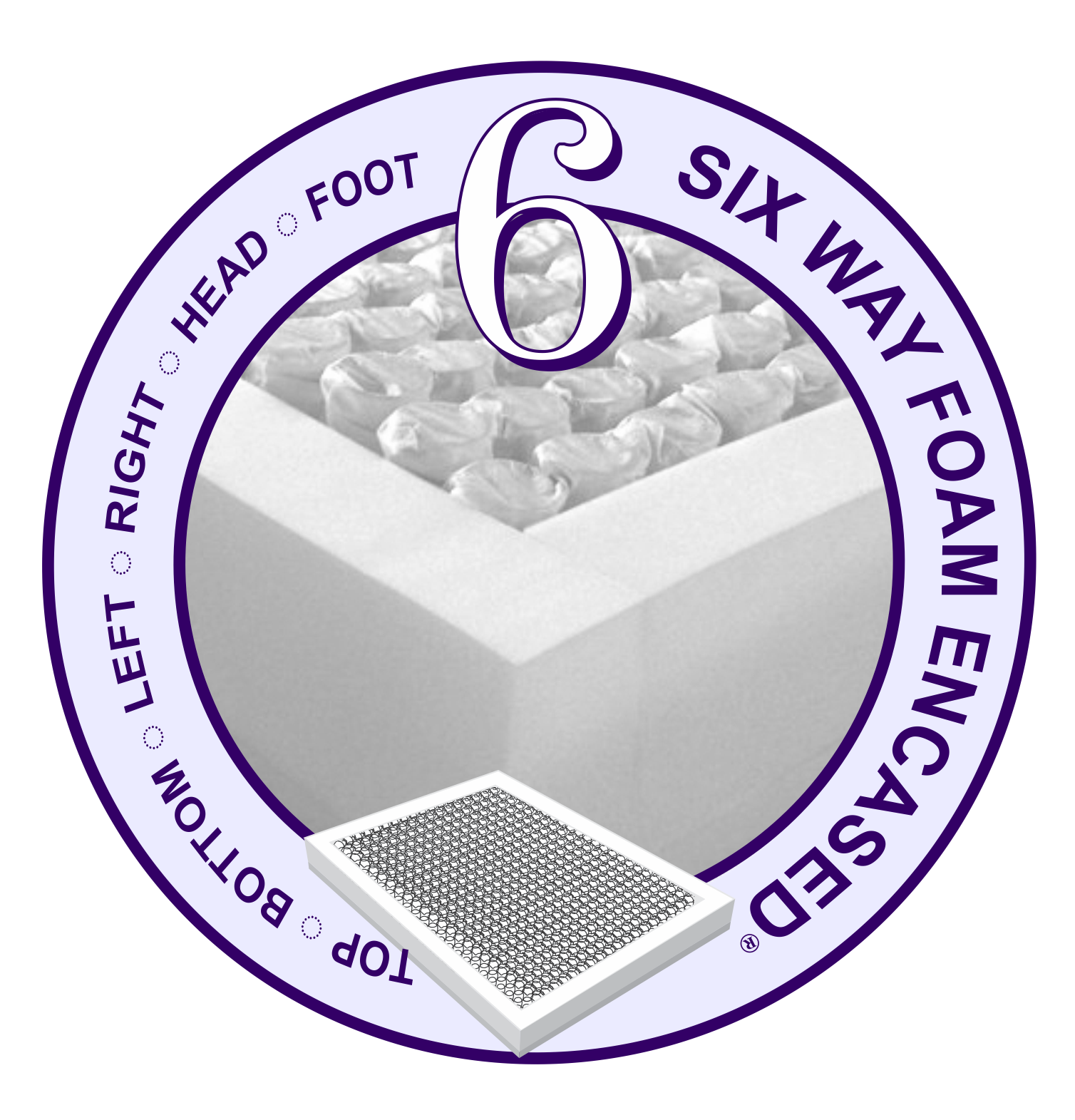 Si
x-Way Foam Encasement
®
provides support all of the way to the edge of the bed, essentially increasing the effective
sleeping sur
face of each mattress while preventing that awful "falling out of
bed
" feeling that can occur with lesser sets. Offered on both Open Coil and on Chiro Coil

®

wrapped coil innerspring support systems, the
effective usable surface of the mattress is increased by as much as 20% on foam encased mattresses. For those that prefer to sleep close to the edge of the bed, that "falling out of bed feeling" common
in yesterday's mattresses is virtually eliminated.
Adults, particularly those who sleep two to a bed, should settle for nothing less than a mattress that features Foam Encasement!

COMFORT AND SUPPORT LAYERS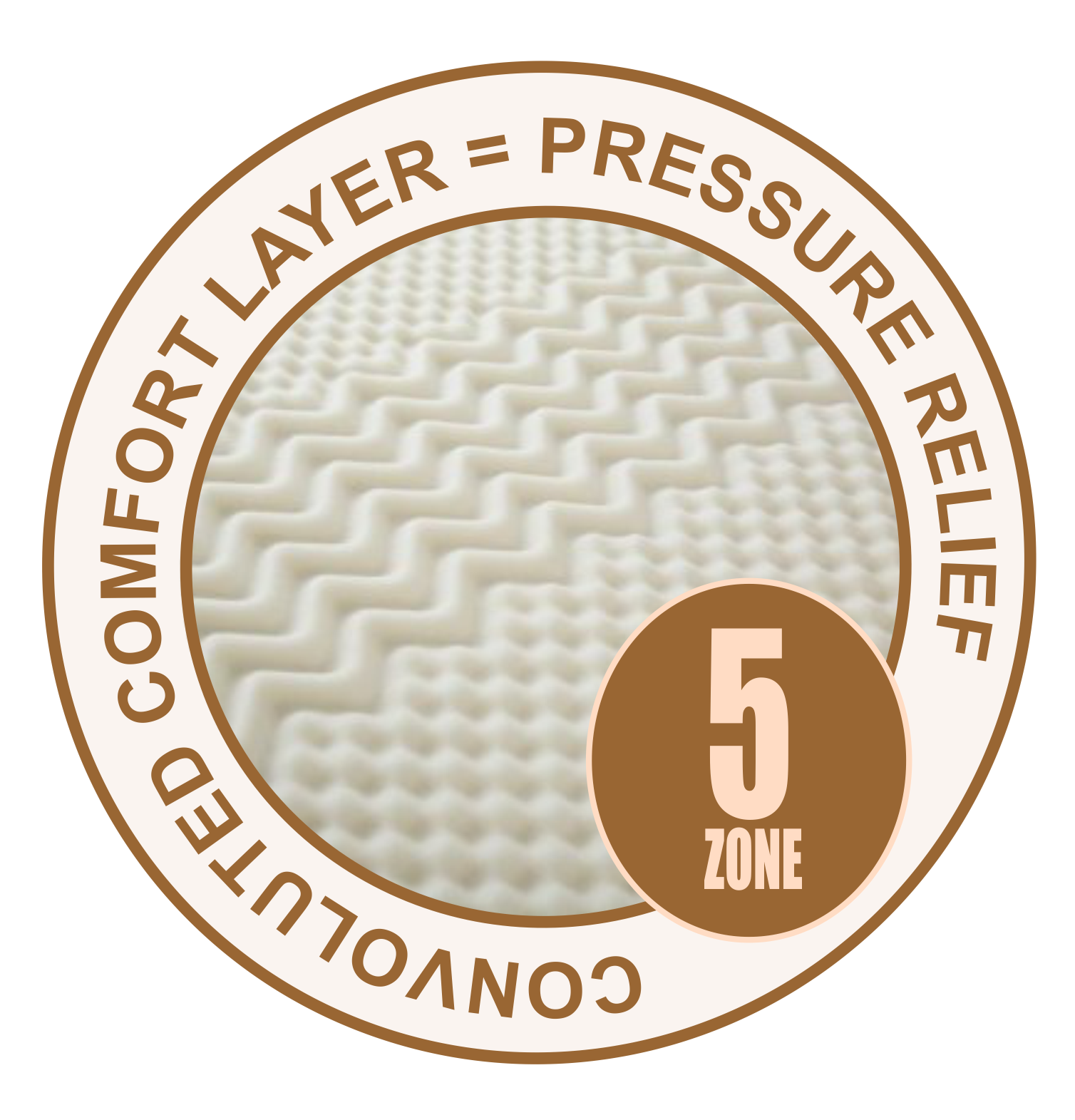 Polyurethane Foam -
Many mattress manufacturers use polyurethane foam in the quilted layers and as the comfort layers of both Spring + Foam and All-Foam mattresses. With the advent of roll-packed mattresses, polyfoam is often used as a base layer in their mattresses instead of using spring coils. Several different varieties and densities of polyurethane foam are available. Higher density polyurethane foams are more durable than lower density foams. Many advanced features are available in poly-foam layers including convolution, and varying densities and softness ratings. High quality polyurethane foams carry the Certi-PUR US emission certifications. Consumers are often familiar with polyurethane foam as the type of foam used in sofa cushions or encounter polyurethane foam when shopping for mattress toppers, including "egg crate" mattress toppers. Polyurethane foam is comprised primarily of petrochemicals. In addition to being both durable and comfortable, polyurethane foams can be shaped and modeled and cut into specific pressure relieving designs.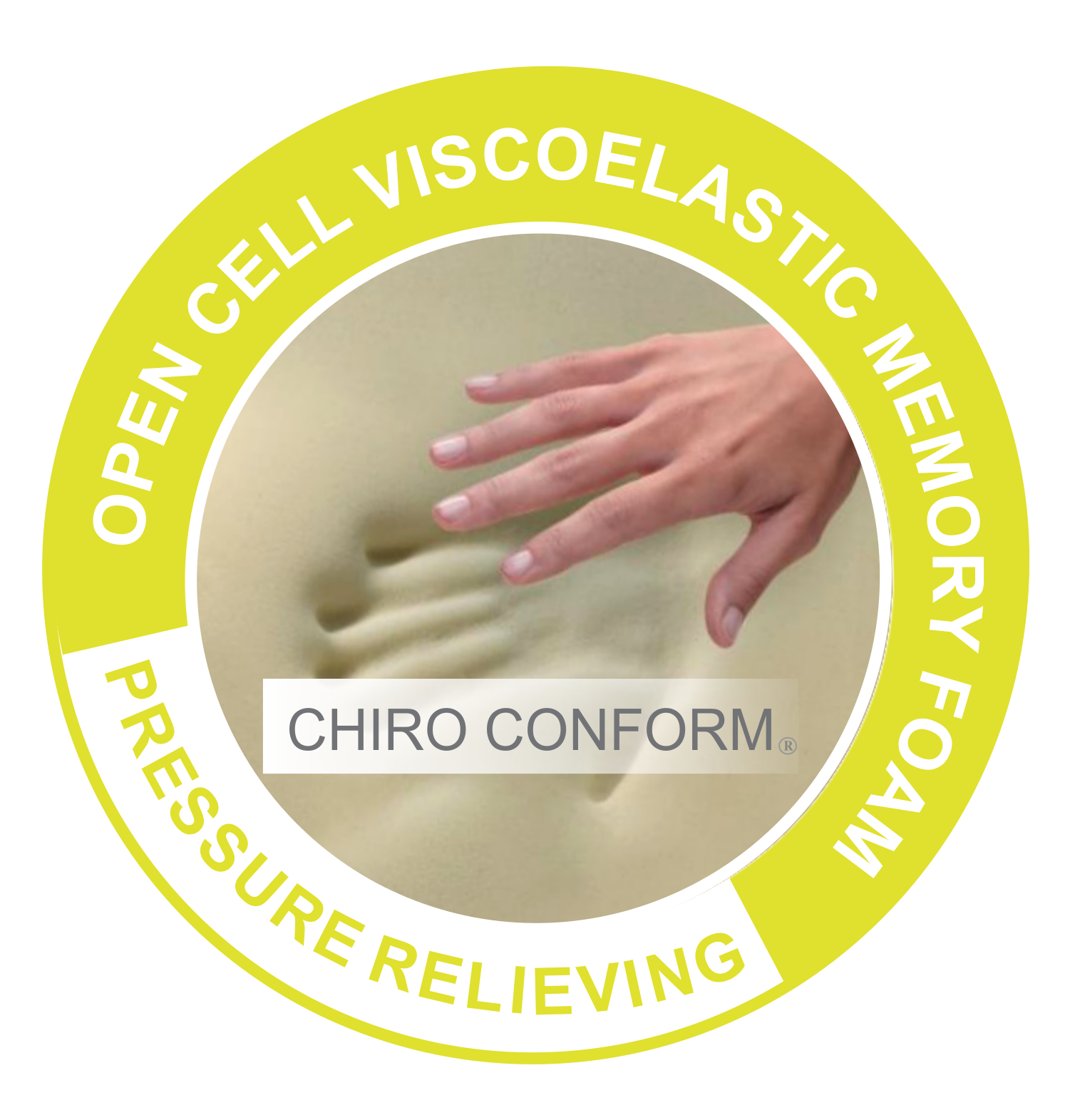 ViscoElastic Foam
–
Also commonly referred to as "Memory Foam,"
viscoelastic polyurethane foam is a type of polyurethane foam that contains added compounds which change the way it responds to pressure and which makes it reactive to changing temperatures. Chemists have engineered Memory Foam for additional conformance and pressure relief, which often results in slower recovery. For example, Memory Foam continues to display a handprint for a few seconds after a hand is removed. Memory Foam is usually denser and more expensive than regular polyurethane foam. Memory Foam is also temperature reactive, which means it absorbs heat and softens as it becomes warmer. Newer versions of Memory Foam known as "Open Cell" visco foams are designed to dissipate heat once absorbed. Many Memory Foams will become firmer in cooler environments and are not recommended for environments where the temperature often dips below 60 degrees Fahrenheit. As with polyurethane foam, Memory Foam is made up primarily of compounds derived from petrochemicals.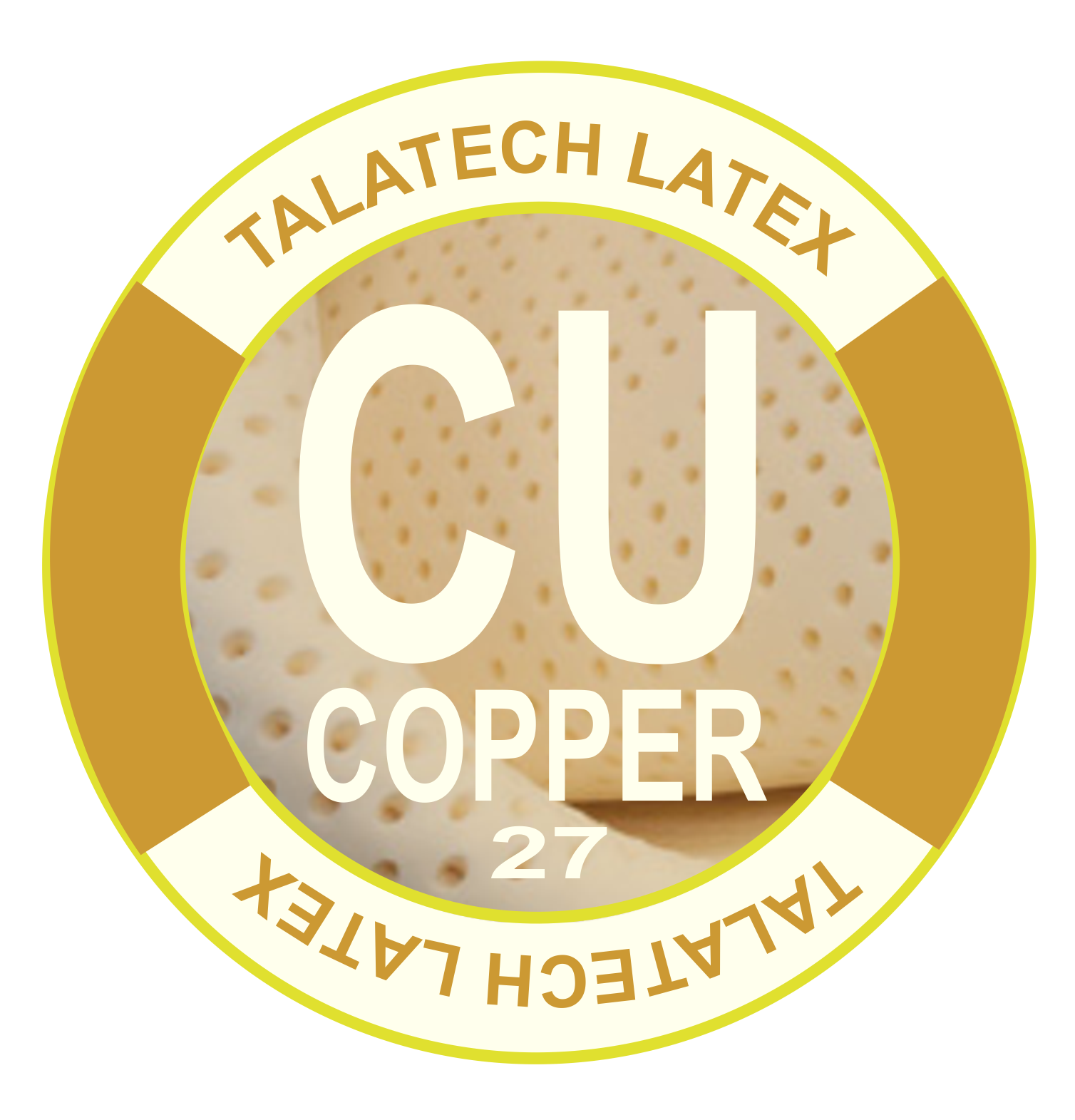 Latex Foam -
Latex foam is one of the most durable types of foam available. Latex reacts instantly when pressure is applied and the support it provides changes with your every move. Latex foam does not "sink in" either initially or during the night and maintains constant support regardless of temperature. The responsive nature of latex facilitates easy movement throughout the night, without producing sleep interruption. Latex foam can be produced with predominantly natural latex which is harvested from rubber trees, or from synthetic latex, which is produced from petrochemicals, or can consist of a blend of both natural and synthetic latex elements. Most latex utilized in American made mattresses are of the blended variety. The two dominant methods used in manufacturing latex are "Talalay" vulcanized and vacuum sealed molds which are used for products with high natural latex content, and "Dunlop" or line poured latex which is often mostly synthetic. "Talatech" latex utilizes the "Talalay" process for blended latex that contains both natural and synthetic components.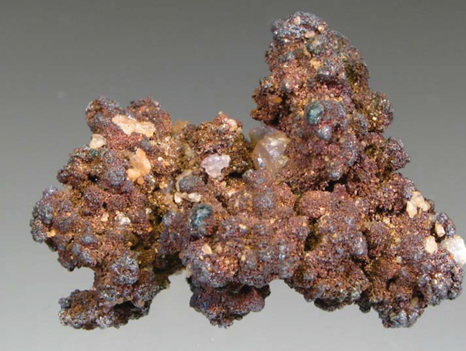 Sleeptronic

®

takes Latex foam to an entirely new level with Copper Infused Latex by Talalay Global.

Copper infused latex provides added performance benefits of possessing antibacterial and innately homeopathic properties that has the potential to positively impact circulation and reduce inflammation. According to Talalay Global, the manufacturer of Talaly Mineral Copper Latex, the copper-infused latex layers in SleepFlex Latex

®

mattresses offer the following benefits:




Increases and encourages circulatory functions

Creates a non-magnetic platform, providing relief from arthritis, bursitis, and rheumatism and reducing inflammation

Stimulates metabolic process

Naturally combats restlessness

Stimulates and encourages brain function while you sleep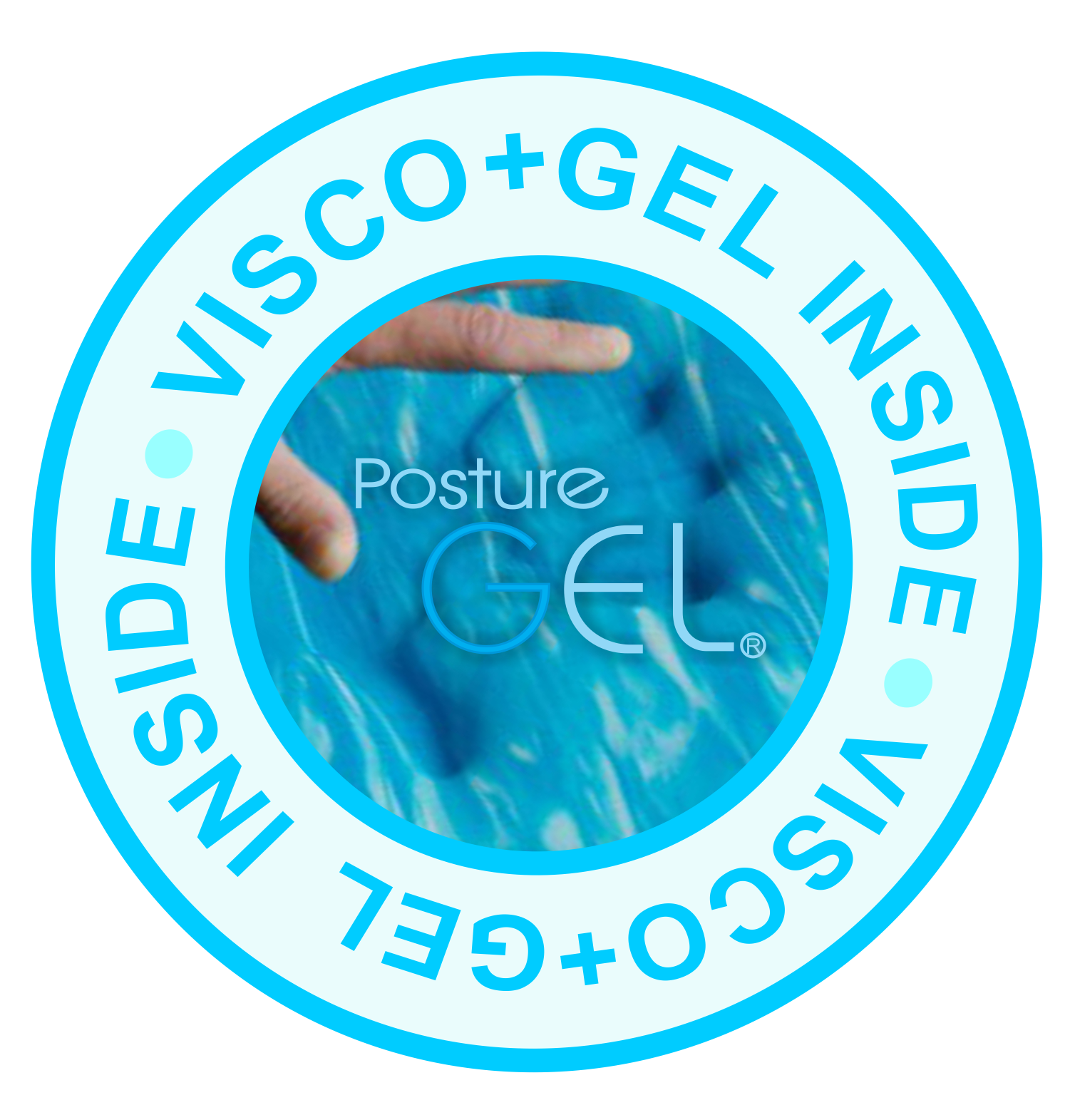 PostureGel

®

Visco and Other Infused Foams –
The chemists who work for polyfoam manufacturers are on a constant quest to create new types of polyurethane and latex foams that can deliver unique comfort, support, and performance benefits. If when researching in preparation for an upcoming mattress purchase should you find that a mattress contains an infused polyfoam, typically that signifies a more advanced product. Liquid gel is the most popular material that foam producers are infusing into foams used in the mattress industry. Similar to the material used to manufacture shoe inserts, liquid gel adds both temperature reduction and cushioning properties to otherwise standard poly and latex foams. Copper and graphite are two of the most popular earth minerals that foam manufacturers are adding to the cushioning and comfort products they supply to mattress manufacturers.

PERFORMANCE FABRICS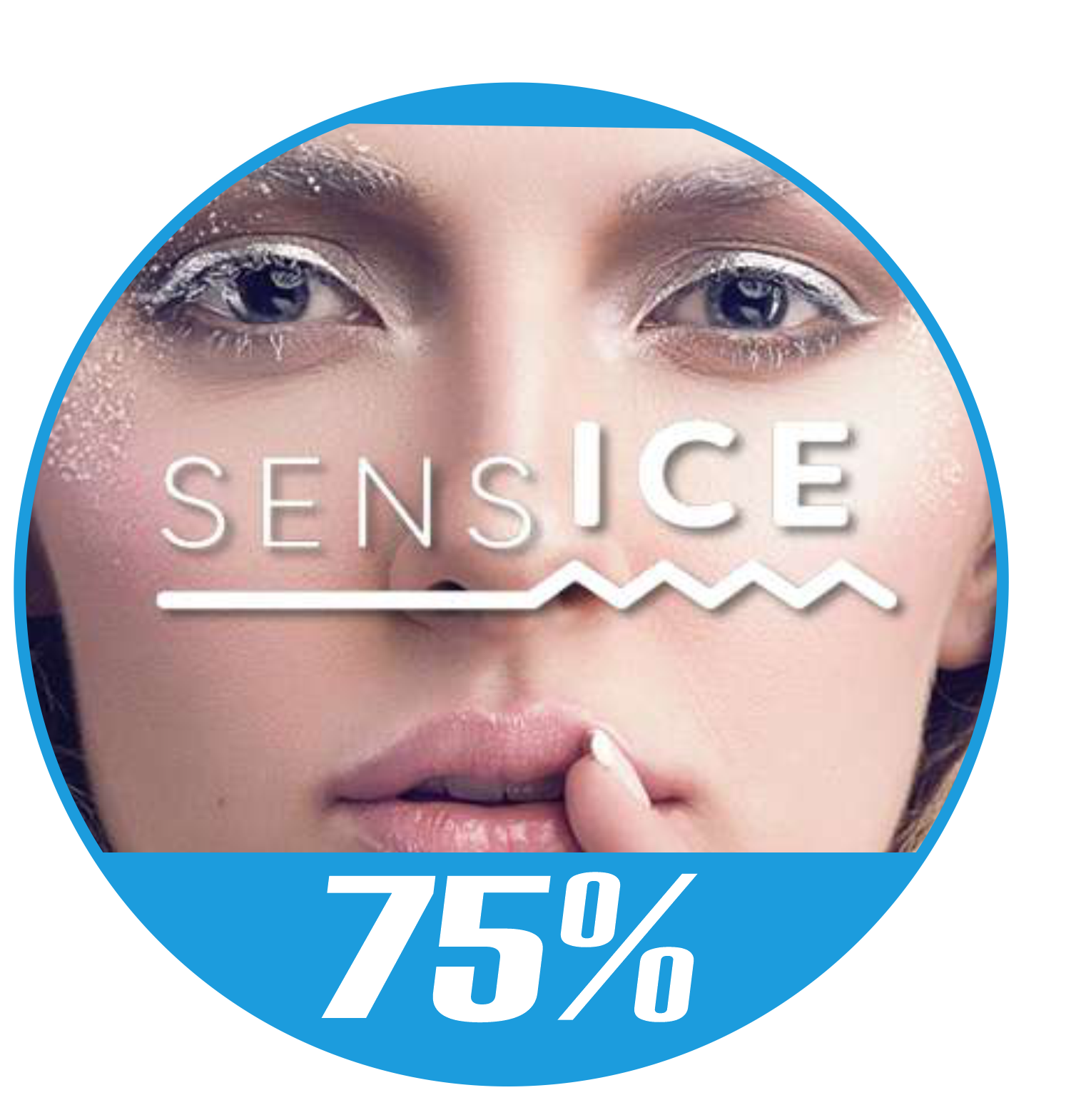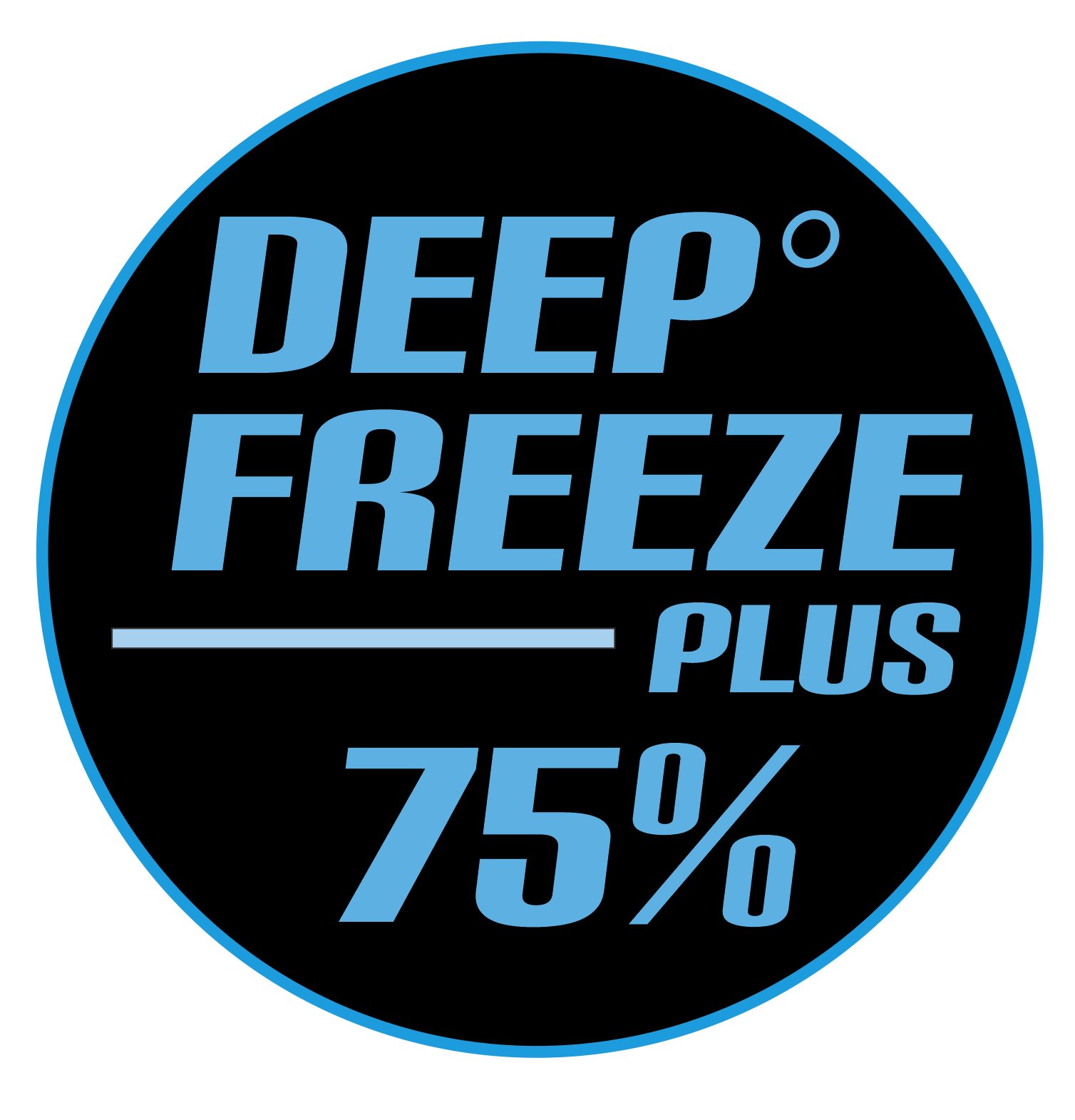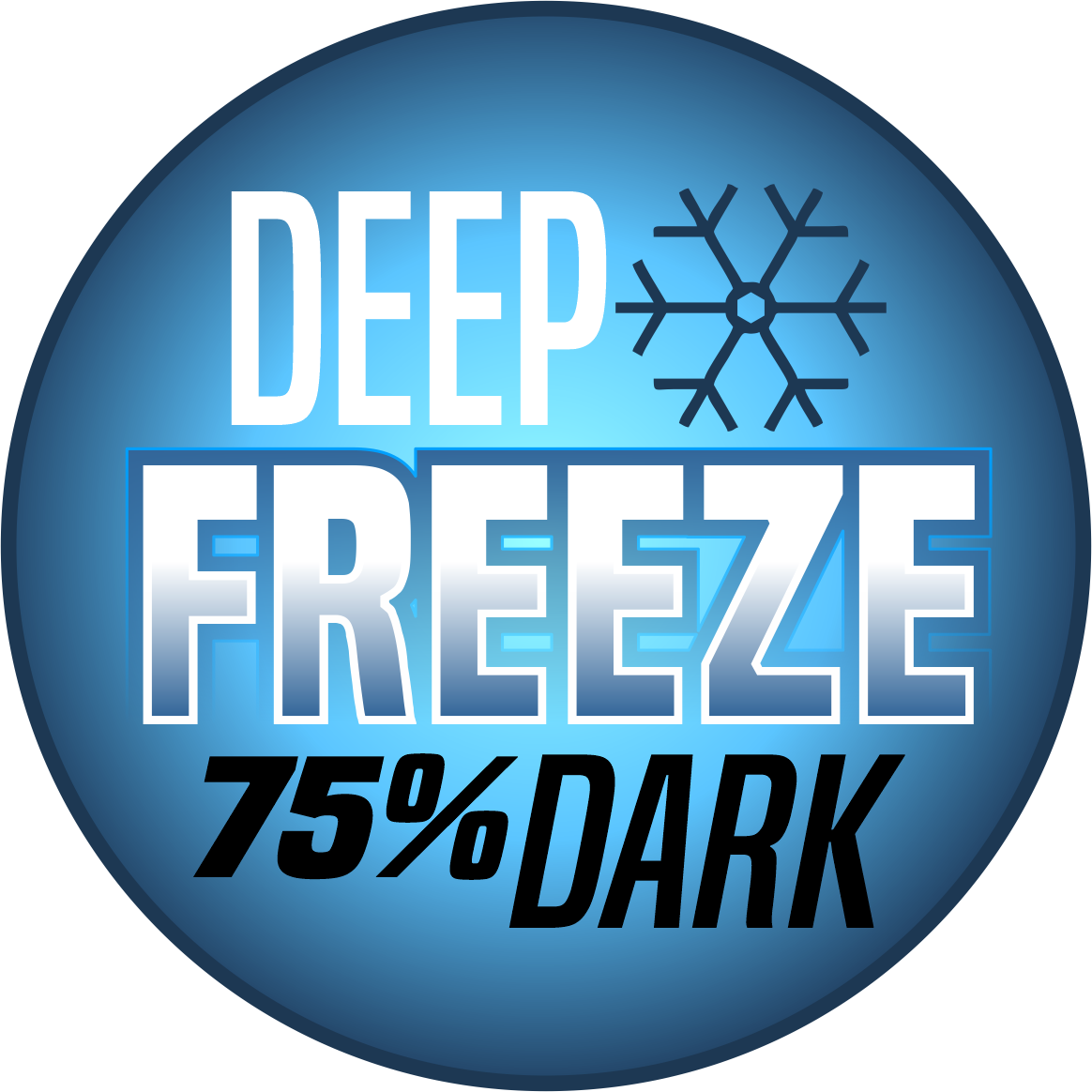 .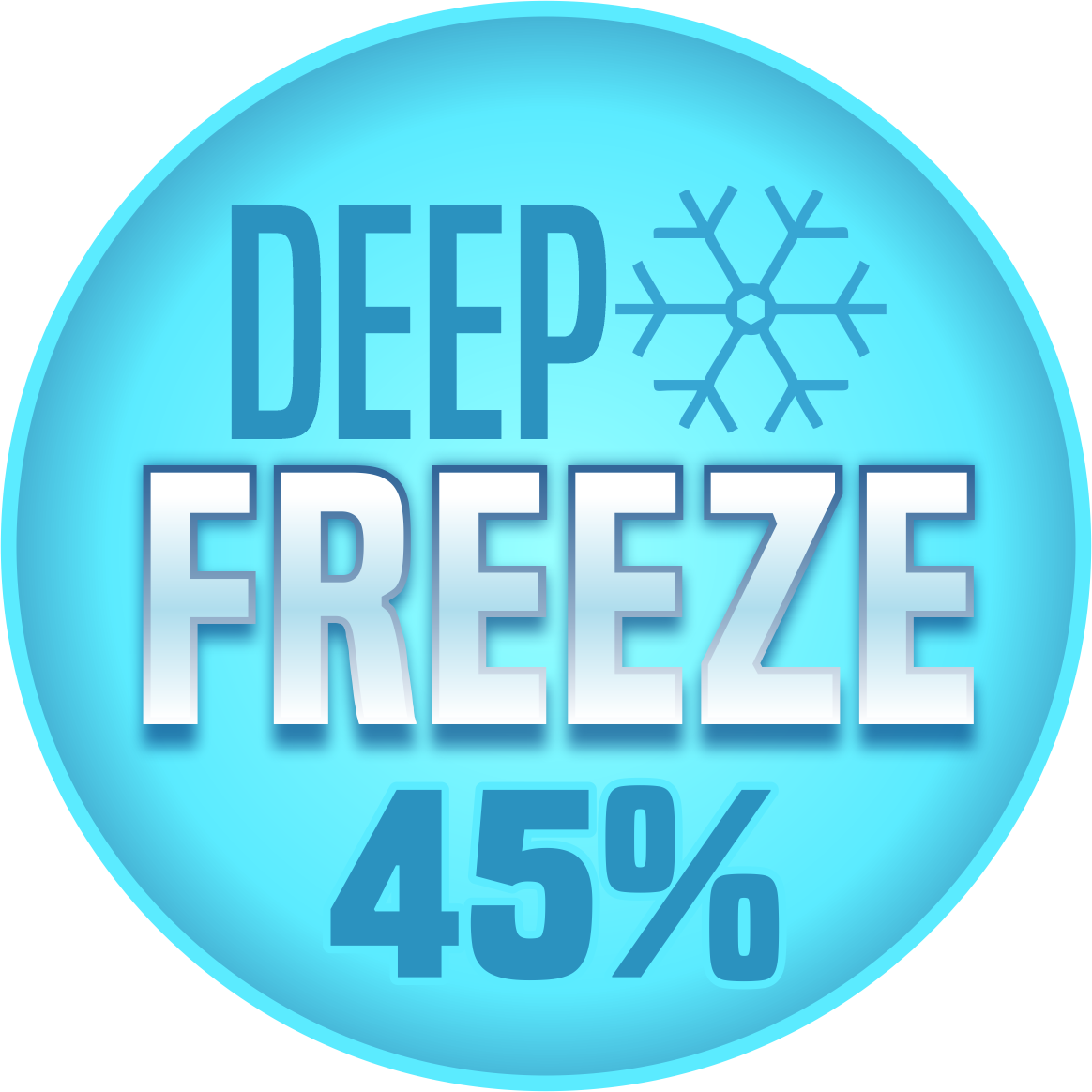 Cooling Ticking -
In warmer climates, sleepers look for many ways to stay cool after they go to sleep. From box fans to outrageous air-conditioning bills, they are eager for solutions. A new innovation in mattresses that is available from better manufacturers utilizes cooling performance fabrics on the sleeping surface of the mattress. So, manufacturers have selected a sprayed on or otherwise topically applied chemical treatment to deliver a cooling effect Sleeptronic has invested in performance tickings that feature permanent, inherent cooling yarns in their construction which do not involve the application of chemicals to the fabric. Fabrics knitted with polyethelyne yarns produce a cooling effect that will never "wear off", and that poses zero risk of sparking a reaction to a topically applied chemical. The percentage designations on the icons above indicate the percentage of the performance yarn that is on the "face" of the fabric, the part a person's hand can touch and feel. When it comes to cooling yarn - the higher the number, the cooler the fabric!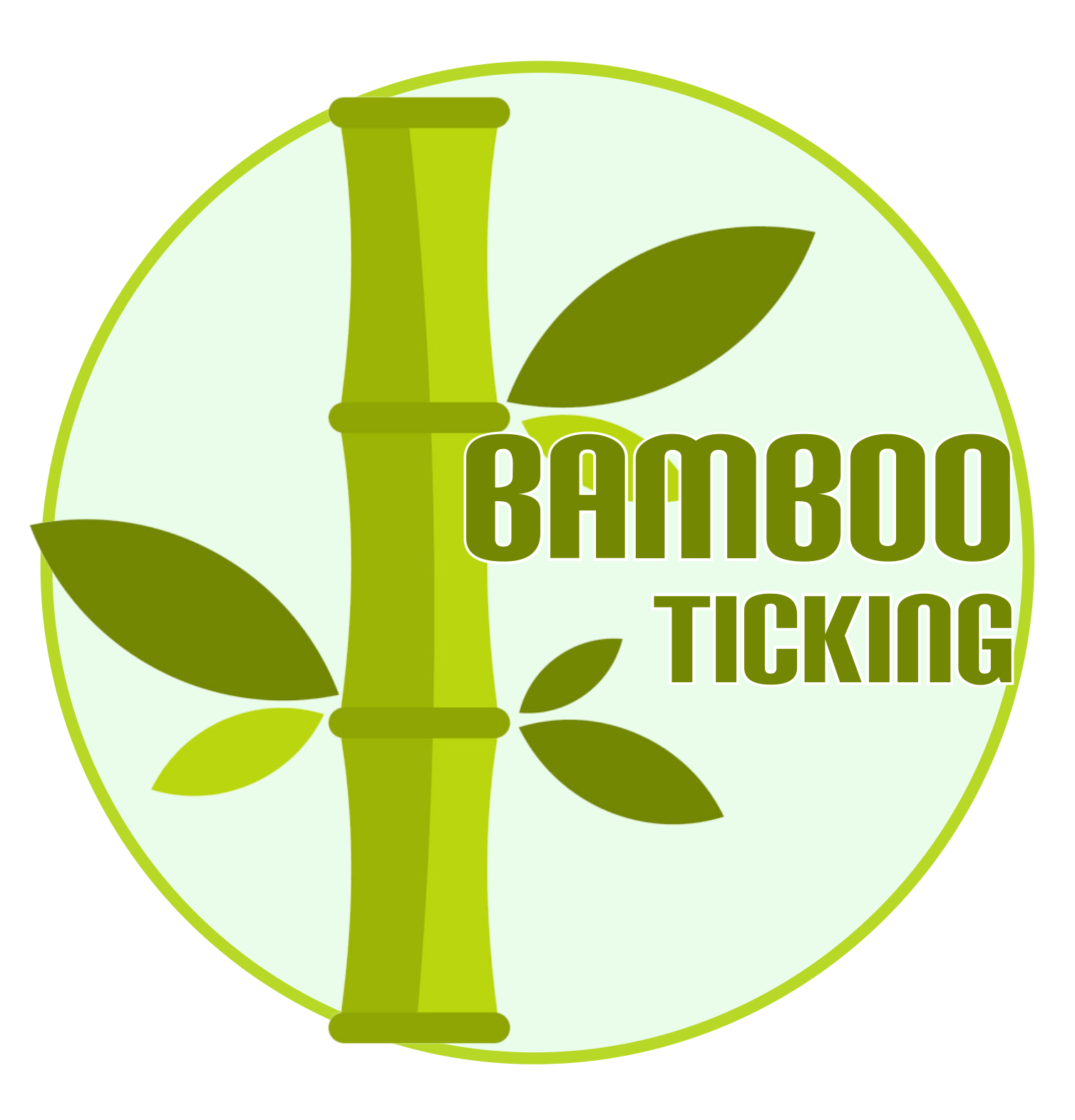 Bamboo
-
Bamboo yarn is made from 100% bamboo pulp fiber that, as a totally biodegradable and sustainable natural product, is fast becoming the most eco-friendly material of the 21st century. Once harvested, the bamboo is ground to a pulp from which silky soft threads are spun. Bamboo possesses a uniquely natural property that prevents and resists infestation by fungi and harmful bacteria. As a natural material with high breathability and ventilation, Bamboo fabric has an excellent cooling and refreshing quality.

Good news for people with allergies!


One of Bamboo's main benefits is its inherent anti-bacterial properties. It is well known that bamboo flourishes in nature without the help of pesticides or chemicals. A constant antibiosis in bamboo and bamboo yarn yields a unique resistance to pests, bacteria and fungi. This makes Bamboo the ideal material for mattress ticking for people with allergies. Bamboo's anti-bacterial and fungicidal components also serve as a natural deodorant. Bamboo yarns also deliver anti-fungal properties when woven or knitted into ticking.
Mattress ticking that is naturally anti-fungal helps to prevent health problems.